Youth Home Resources
Resources, activities, and learning materials for any students who are looking to expand their knowledge on a variety of topics. We know this is a difficult time, and it is easy to get bored when you are stuck at home! So we have come up with a variety of projects and activities across multiple subject areas to keep our students motivated while 4-H activities are postponed. New material will be posted at least twice a week, so check back every few days for new content!
Virtual Field Trips!
Regions of Georgia
The Regions of Georgia virtual field trip takes students on a journey throughout the state of Georgia, guiding them through the five physiographic regions and explaining the relative location of each, as well as their characteristics, economic importance, and much more.
https://www.gpb.org/education/virtual/regions-of-georgia
Indian Mounds
The Indian Mounds experience includes virtual field trips to Ocmulgee National Monument, Kolomoki Mounds State Park, and Etowah Indian Mounds Historic Site.
https://www.gpb.org/education/virtual/indian-mounds
Andersonville
Students can explore a Confederate prisoner-of-war camp and the harsh conditions that Union soldiers endured while imprisoned at Camp Sumter.
https://www.gpb.org/education/virtual/andersonville
Warm Springs
The Warm Springs virtual field trip explores Franklin Delano Roosevelt's personal ties to Georgia, including his struggle with polio and his interaction with Georgia citizens.
https://www.gpb.org/education/virtual/warm-springs
Creek Nation
The Creek Nation virtual field trip examines lives of the Creek Indians prior to the arrival of the first settlers in Georgia, the fight to remain on their land, and their removal from Georgia in the 1830s.
https://www.gpb.org/education/virtual/creek-nation
Georgia Forests
An interactive journey through the working forests of Georgia to learn about forest ecosystems, food webs, and life cycles, as well as forestry management processes, career opportunities, and much more!
https://www.gpb.org/ga-digital-textbook/#/en/issue/72E238297DAF9393E4A3E035F2C4B446
SKITTLES EXPERIMENT
This skittles experiment is easy, low cost and provides lots of investigative opportunities. Try using different temperatures of water, white vinegar or even lemonade to discover what happens.
WHAT YOU NEED:
·     A plate or container – preferably white
·     Skittles
·     Water
INSTRUCTIONS
Place your skittles into a white container, try to alternate the colors.
Carefully pour water into the container, if the skittles move, just push them back into place quickly
Watch what happens..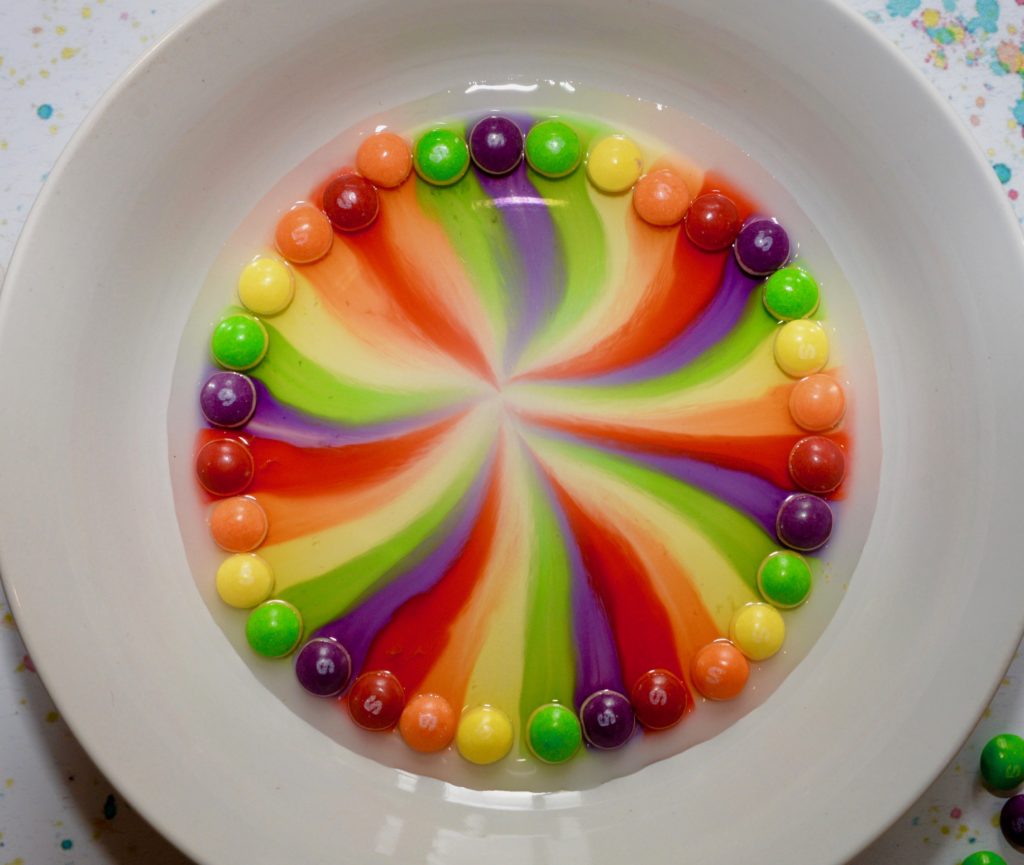 WHY DO THE COLORS SPREAD?
Skittles are coated in food coloring and sugar. When you pour water over the skittles the colored coating dissolves spreading through the water.
The color and sugar dissolve into the water and then diffuse through the water, making it the color of the skittle.
EXTENSION IDEAS
Can you time how long the colors take to reach the center of the plate using cold and warm water? Which do you think will be faster?
Try using other sweets, can you find any that work as well as skittles?
QUESTIONS TO ASK AND THINK ABOUT
Why do you think the colors don't mix?
Can you spot the 'S' from the skittles? What happens to it?
How could you speed up the reaction?
References
Introduction to Poultry!
If you are interested in Poultry Judging, this is a great resource for you!
https://www.proprofs.com/games/crossword/poultry-judging-parts-of-a-chicken/
Happy St. Patrick's Day!
Fun Word Scramble and Coloring activity!
Growing Shamrocks...Another Fun Idea!
One leaf is for HOPE...
The second for FAITH...
The third for LOVE...
And the fourth for LUCK!
Cut shamrock from a sponge. Moisten shamrock. Sprinkle with alfalfa seed. Keep moist. Set in dark place. Allow several days for shamrock to grow. Set in sunlight for shamrock to turn green.
Seeds can be sown in small pots or trays using peat pellets, peat pots or any moist, well drained soil mix.
The seeds which are very small should be placed on the moist soil surface or lightly covered with soil. A clear dome or plastic cover should be placed over the pot or tray (supported at least 2" above the surface) and the pot or tray placed in a warm shaded location until the seeds have germinated (this will usually be in about a week).
Once the seeds have germinated and the first "seed" leaf appears (this will be a single leaf, not a clover leaf), remove the cover and place pot or tray in a sunny location, keep moist and do not allow soil to dry out. When the soil surface "lightens" and starts to dry, it's time to water. Depending on your pot or tray size and location, you may have to water every day or every second or third day. Only water, do not fertilize.
When two or three true clover leaves have formed, you can begin fertilizing with a liquid fertilizer at the recommended dosage for house plants.