Plant-parasitic nematodes are soilborne, tiny, worm-like animals that infect a broad range of plant species. Nematodes establish a parasitic association with hosts that causes a disruption in water and nutrient uptake and interferes with the efficient use of photosynthetic products for plant growth. The damage can be observed on roots and the aboveground parts of plants, and it ultimately decreases crop quality and yield. The economic damage caused by nematodes in agricultural crops ranges from insignificant to severe, and the degree of damage varies based on the plant species/variety, environmental conditions, and the type and population density of nematode present in soil.
Nematode problems in vegetables
Vegetable crops, including cucurbits, bell peppers, tomatoes, sweet corn, and onions, have been grown in Georgia for decades as full-season spring or fall crops. According to the University of Georgia Center for Agribusiness and Economic Development, vegetable production in Georgia has increased rapidly in recent years and accounted for $1.1 billion in farm gate value in 2015. The warm and humid climate in the region is ideal for vegetable growth, but it is also ideal for plant-parasitic nematode activity in the soil. Vegetable crops are subject to invasion by a number of nematodes. The root-knot (Meloidogyne spp.), reniform (Rotylenchulus reniformis), sting (Belonolaimus longicaudatus), root lesion (Pratylenchus spp.), lance (Hoplolaimus columbus), and stubby root (Paratrichodorus spp.) nematodes can cause significant yield loss in many vegetable crops, resulting in significant annual yield losses. The nematodes that growers are most aware of and concerned about are root-knot nematodes, which attack a wide range of vegetable crops and cause moderate to severe swelling or galls on the roots (Figure 1). Heavy infections of host plants are common in most of vegetable-growing regions. Among vegetable crops, some are much more sensitive than others to specific species of root-knot nematodes. Therefore, it is very important to know which species of nematode is present and at what population density.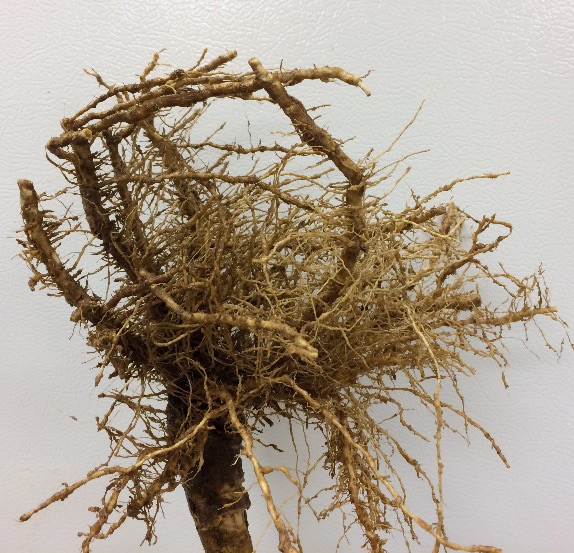 Why test plant and soil samples?
The accurate assessment of nematode incidence, disease severity, nematode dispersal, and the damaging impacts of nematodes on the quality and quantity of agricultural crops are of great importance for planning and developing integrated management activities in field production systems. Growers are often unaware of the damage caused by nematodes because much of the plant injury is below the soil surface and goes undetected or is attributed to other causes, such as fungal plant diseases or nutrient deficiency. Nematodes often reduce yield without causing symptoms that would prompt a grower to get a nematode analysis to determine why the crop is producing poorly. Sampling the soil in a field allows identification of the types and quantities of nematodes present, which provides the information necessary to determine if nematode management is needed to prevent crop damage. Sampling may also discover patterns of nematode distribution in a field, which may allow targeting treatment only to areas that need it, thereby reducing treatment cost and minimizing environmental impacts without reducing effectiveness. To be effective, nematode management decisions must be based on samples that accurately measure the population levels. Therefore, soil sampling based on standard protocols is critical in making nematode pest management decisions. For more information on sampling for nematodes, refer to UGA Extension Circular 834, which can be found at http://extension.uga.edu/ publications/detail.html?number=C834.
Why identify which nematodes are present?
Identifying nematodes prior to seeding or transplanting allows growers to implement suitable and sustainable management procedures to minimize crop losses instead of discovering the nematode disease symptoms when it is too late to prevent damage. Nematodes that are present in soil are generally very small (0.3 to 1.5 mm) and cannot be detected by the naked eye. For this reason, taking soil samples for microscopic examination is the most reliable way to determine which nematodes are in a field. Accurate identification of nematode species is very important to vegetable growers in Georgia for selecting management options, especially for root-knot nematodes. Production efficiency in infested fields can be improved by utilizing species-specific diagnostic methods. For instance, the effective use of rotational nonhost crops as a component of integrated pest management directly relates to the nematode species present in soil. Additionally, appropriately selecting a trap crop for managing nematodes involves a precise diagnosis of the targeted nematode species. That said, commercial nematology labs typically identify important nematodes only to the genus level. For instance, they report Meloidogyne spp. but do not differentiate Meloidogyne incognita from M. arenaria, M. javanica, or M. hapla. Some labs are now able to use molecular techniques, principally based on polymerase chain reaction (PCR), for precise and reliable identification of nematode species.
Why quantify nematode populations?
There is a direct relationship between the number of parasitic nematodes present in the soil and crop loss, with more nematodes leading to greater yield loss. Therefore, knowing the nematode population density prior to or at planting allows growers to make management decisions that reduce the impact of nematodes on vegetables. Knowing the density of nematodes can help determine whether pre-plant or post-plant treatments of soil with fumigants or other nematicides are economically justified. Additionally, the length of rotation with nonhost crops and other control options often are reliant on the population density of nematodes. The population density and distribution of nematodes in fields can be influenced by the type of cultivation, time of year, previous crop, soil moisture, soil type, environmental conditions, and nematode management tactics used. For instance, root-knot nematodes are well adapted to coarse-textured soils in southern Georgia, which can result in high nematode population levels.
How does this information improve control?
Methyl bromide once provided a high level of nematode control in many vegetable production systems. Since it was phased out, the number of vegetable growers that have problems with plant-parasitic nematodes has increased. Sampling soil, identifying nematodes, and quantifying nematode populations, though a relatively slow and costly process, provides important information for growers to make appropriate management decisions. Once one or more parasitic nematode species have been identified as causing a problem, management strategies can be taken to control the nematode. If samples show the presence of nematodes above action threshold levels, then suitable control methods should be used to reduce the population densities to minimize economic damage. Therefore, analyzing the soil for nematodes can guide vegetable growers on whether to use fumigants or nematicides. There are many situations in which treating soil with expensive chemical products is unnecessary.
Summary
The detection of damaging nematode infestations can enable growers to significantly increase crop productivity and profitability. Although a single tactic such as soil fumigation may be adequate in some situations, successful control of nematodes can be achieved by integrating two or more of the management strategies. It is imperative that growers test their soils and obtain information about which nematode species are present in their fields as well
as their population densities. The best way to detect and identify nematode problems is through collecting soil and/ or plant samples and having those samples analyzed in a reliable nematode diagnostic lab. If you suspect a field has a nematode problem, have the soil tested and consult with your local Extension agent or nematologist for advice on how to manage the nematode infestation.
---
Status and Revision History
Published on Apr 10, 2018