Eat a Variety of Foods: Encourage your family to stay healthy by eating a variety of foods.
For many families, it can be difficult to provide healthy meals while staying on budget. Healthy foods can cost more, making it a challenge to purchase a variety of healthy choices. There are several ways to make healthy eating more economical for your family.
Compare Prices and Search for Sales
Use sales or coupons when possible. Compare items to determine the best deal.
Choose Wisely
Some foods are always less expensive. Buy produce in season and look for the best deals
Buy in Bulk
For non-perishables or foods that you can freeze, buy large quantities and store the extras.
Use Your Leftovers
Serve your leftovers for other meals, or combine ingredients to make a new meal.
Plan Your Meals
Plan your meals for the week before going shopping. See what you already have, and make a list of what you need to buy.
*USDA. (2011). MyPlate: Eating Better on a Budget. Retrieved from www.choosemyplate.gov/food-groups/downloads/TenTips/DGTipsheet16EatingBetterOnABudget.pdf
Family Fun Activity: Food Chart
Use this easy activity to help your child learn.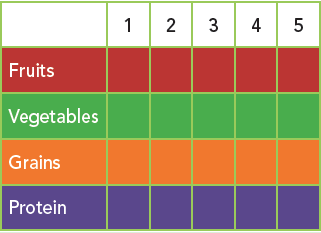 What You Need:
Chart
Stickers or markers
What To Do:
Over the weekend, create a chart to keep track of the different kinds of foods your child eats
For every serving of each food group your child eats, invite him or her to mark the chart

For example, if your child eats an apple, mark one serving of fruit

At the end of the day, review the chart with your child and talk about the different food groups
This is publication 17 out of 24 in the Eat Healthy, Be Active: Keeping Children Healthy at Home and School series. For more information visit www.eathealthybeactive.net
---
Status and Revision History
Published on May 13, 2014
Published with Full Review on Mar 28, 2017
Published with Full Review on Dec 06, 2022

Faculty
Diane W Bales
Assoc Professor & Human Dev Spec, Family & Consumer Sciences