Eat a Variety of Foods: Encourage your family to stay healthy by eating a variety of foods.
For many families, eating a variety of foods can be a challenge. One way to encourage healthy eating in your family is to make nutritious snacks appealing. Start by being a positive role model. Your child is more likely to try new foods if he or she sees you eating them.
Many foods can be made appealing by preparing them differently. By making the food fun, your child will be more likely to want to eat it. Healthy snacks can be enjoyable when children help prepare them. Take the opportunity to create a delicious and nutritious snack with your child, then enjoy it together!
Here are some ideas of ways to make healthy foods interesting:
Freeze grapes or other fruit
Create a face with fruit
Make designs on toast with peanut butter
Present raw vegetables with low-fat dressing for dipping
Create a colorful salad or soup
*USDA. (2011). MyPlate: 10 Tips for Making Healthy Foods More Fun for Children. Retrieved from www.choosemyplate.gov/food-groups/downloads/TenTips/DGTipsheet11KidFriendlyVeggiesAndFruits.pdf
Family Fun Activity: Fruit Faces
Use this easy activity to help your child learn.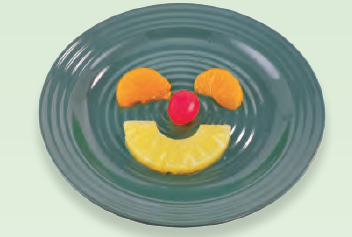 What You Need:
Variety of fruit, such as:

Berries
Pineapple
Apple
Banana
Orange
Pear

Plates
What To Do:
Invite your child to help you make fruit faces
Decorate a plate by making faces out of the fruit
Enjoy eating a healthy snack of fruit with your child
Talk about the fruit's taste, color, and texture as you eat

"The tomato is red and sweet"
"The orange is juicy"
This is publication 5 out of 24 in the Eat Healthy, Be Active: Keeping Children Healthy at Home and School series. For more information visit www.eathealthybeactive.net
---
Status and Revision History
Published on May 13, 2014
Published with Full Review on Mar 28, 2017
Published with Full Review on Dec 06, 2022

Faculty
Diane W Bales
Assoc Professor & Human Dev Spec, Family & Consumer Sciences