The silverleaf whitefly, also known as the sweet potato whitefly or Bemisia tabaci (Hemiptera: Aleyrodidae; Figure 1), attacks a wide range of plants, from ornamentals to warm-season vegetables. Whiteflies are active from mid-July to mid-October and are found gathered together on the underside of leaves during the daytime (Figure 2). Although 76 whitefly species are known to exist in the Southeastern U.S., only a few species cause serious problems in greenhouses and nurseries. These species include the greenhouse whitefly (Trialeurodes vaporariorum), banded wing whitefly (Trialeurodes abutiloneus), giant whitefly (Aleurodicus dugesii), citrus whitefly (Dialeurodes citri), cloudywinged whitefly (Dialeurodes citrifolii), and the silverleaf or sweet potato whitefly. Among several whitefly species, the silverleaf whitefly, particularly biotype B (Figure 3), is the most common and most destructive whitefly species in nurseries in the Southeastern U.S.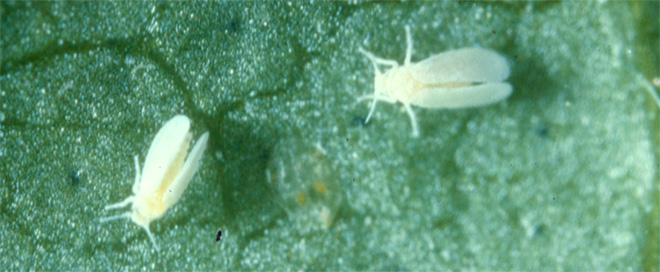 Figure 1. Adult silverleaf whiteflies, also known as sweet potato whiteflies.
Photo: Central Science Laboratory, Harpenden, British Crown, Bugwood.org

Figure 2. Adult silverleaf whitefly infestation on the underside of a tobacco leaf.
Photo: Clemson University – USDA Cooperative Extension Slide Series, Bugwood.org

Figure 3. Adult silverleaf whitefly (Bemisia argentifolii or Bemisia tabaci biotype B)
Photo: Scott Bauer, USDA Agricultural Research Service, Bugwood.org
Biology and Damage
Silverleaf whitefly adults have a whitish waxy coating covering their body and four wings, and are approximately 0.8 mm (male) to 1.2 mm (female) long. The silverleaf whitefly is yellowish-white and smaller than other whitefly species, including the giant whitefly, greenhouse whitefly, and banded wing whitefly. Their life stages are egg, nymph, pupa, and adult.
Unlike all other whitefly species, silverleaf whiteflies do not lay eggs in a circular pattern. Females instead deposit between 50 (in cold conditions) and 400 (in warmer conditions) yellow-colored eggs on the undersides of leaves (Figure 4). The eggs remain partially embedded in the surface of the leaves, and turn from yellow to purplish-brown just before hatching. Eggs hatch into flattened nymphs after 4 to 12 days, depending on the temperature.