Two common problems many North Georgia landowners face are trying to establish landscapes in shaded areas in this forested part of the state and covering sloped areas with plants to reduce erosion. North Georgia's climate can be variable, with temperatures dropping into the single digits during extreme winters. Areas susceptible to deep freeze typically are found in Georgia's USDA plant hardiness zones 6 and 7 (Figure 1). It can be difficult to make proper plant selections in these regions with subfreezing temperatures and low–light conditions. For these reasons this circular will cover the most common ground covers, including native and non–native plants that have a long history of survival under these conditions.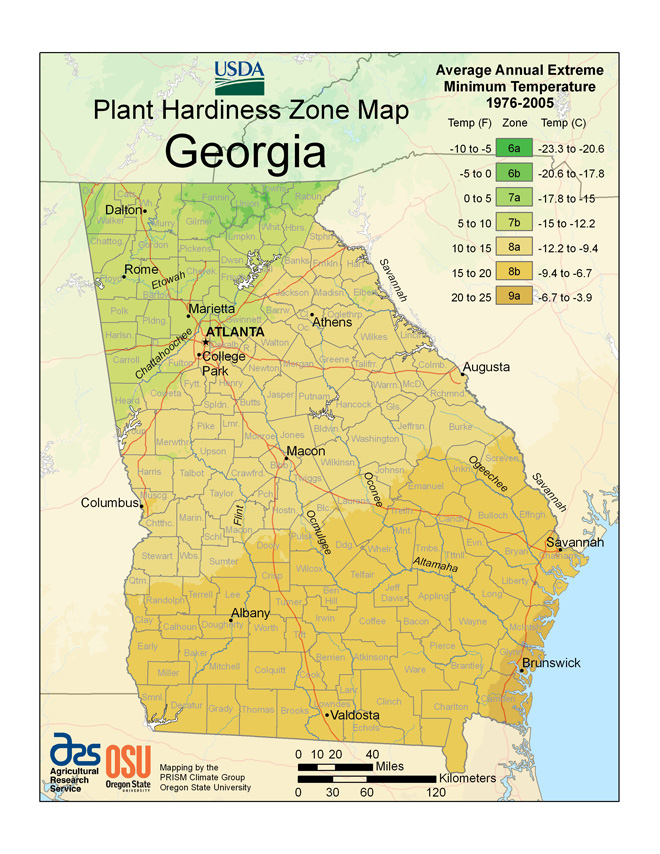 Figure 1. USDA plant hardiness zones and average minimum temperatures for North Georgia counties.
Understanding the basics: Shade, maintenance, and wildlife
Shade can come in many forms: morning shade, afternoon shade, dappled sunlight, deep shade, etc. In addition to shade, considerations such as soil types, structure, and drainage (well–drained, moist, clay, wet, upland) also play important roles in decision–making within that shaded location. Most plant labels refer to sunlight and desired water availability, therefore the plants listed here will mention soil–wetness preference. It is important to understand the type of shade in your landscape so that you can select a well–adapted plant. These recommended plants will assume a moderate (less than 3 hr of sun) to full–shade (no sun) scenario.
Most ground covers do exactly what the name implies—cover the ground. For that reason, these plants also can spread beyond the boundaries of where we want them to grow. Regular maintenance usually is needed to control the edges of the desired areas through mechanical means (i.e., pulling, mowing). It often is no surprise to learn that many ground covers are considered aggressive or even invasive plants. No plant in this document is listed in categories 1 or 2 of exotic plants as defined by the Georgia Exotic Pest Plant Council. However, Liriope muscari is in Category 3, which GEPPC defines as "Exotic plant that is a minor problem in Georgia natural areas, or is not yet known to be a problem in Georgia but is known to be a problem in adjacent states."
It is important to mention that many plant labels claim to be deer resistant. No plants are deer resistant, but they may be more deer tolerant, which means that deer may nibble them but do not prefer their foliage. However, in tough winters animals may resort to browsing less palatable plants, including some listed in this publication. Placing protection around newly installed plants is a good practice. Once well–established, plants can tolerate browsing.
Try to find as much pictorial information as possible when choosing plants. Growth rate and specific plant characteristics—such as evergreen leaves, interesting blooms, and/or attractive foliage—all should be considered (Figure 2). University of Georgia Extension publications, Native Plants for Georgia Part II: Ferns (B987-2) and Native Plants for Georgia Part III: Wildflowers (B987-3), are a good place to start.
Recommended top 30 ground covers for north Georgia shaded areas
| Common Name | Botanical Name | Mature Height / Spread | Growth Rate | Comments |
| --- | --- | --- | --- | --- |
| 1. Allegheny spurge* | Pachysandra procumbens | 6–10 in. / 2–3 ft | Slow | Pink flowers in spring |
| 2. Autumn fern | Dryopteris erythrosora | 18–24 in. / 18–24 in. | Med | Turns bronze in winter |
| 3. Bishop's hat | Epimedium spp | 1 ft / 18 in. | Med | Creamy yellow flowers in spring; likes uniform moisture |
| 4. Bugleweed | Ajuga repens | 3–6 in. / 2 ft | Med | Blue flower spikes in spring |
| 5. Cast iron plant | Aspidistra elatior | 1–2 ft / 1–2 ft | Med | Tough plant for shade |
| 6. Christmas fern** | Polystichum acrostichoides | 1–2 ft / 18 in. | Med | Likes moist soil with organic matter |
| 7. Coral bells | Heuchera spp. | 1–2 ft / 18 in. | Med | Spring blooms |
| 8. Creeping barberry* | Mahonia repens | 1–3 ft / 1–2 ft | Med | Tough plant |
| | | | | |
* Native to North America
** Native to Georgia
Figure 2. Selected ground covers. Photos: B. Pennisi, C. Evans (chain fern), G. Wade (little brown jug), & Ed McDowell (Solomon's seal).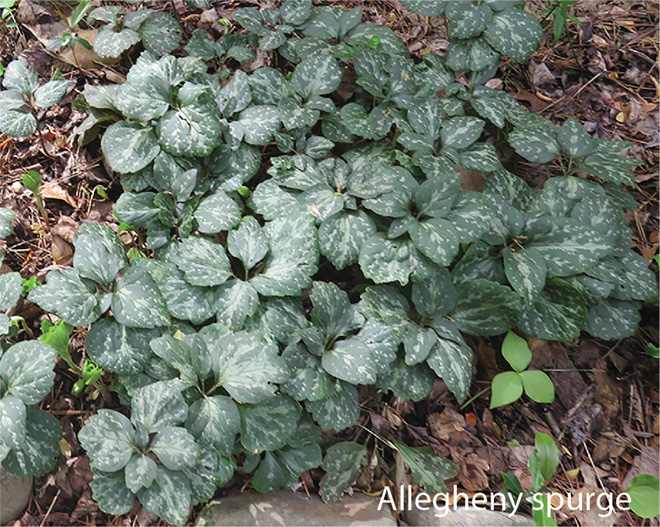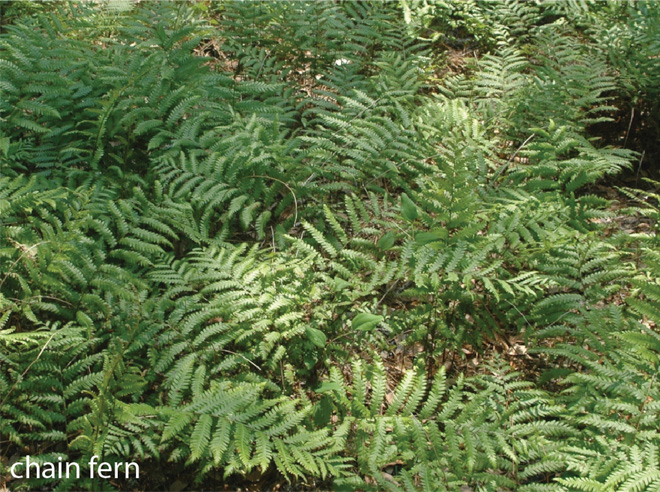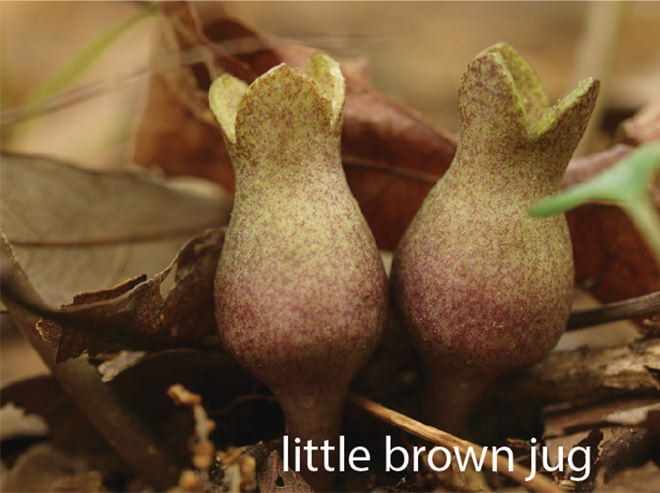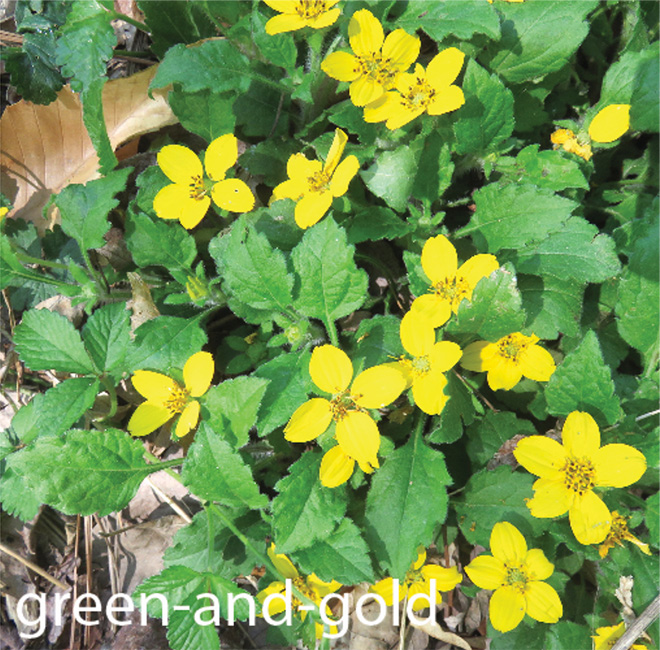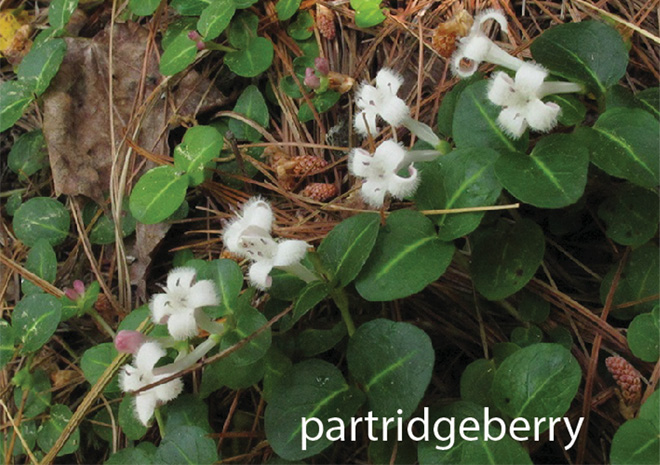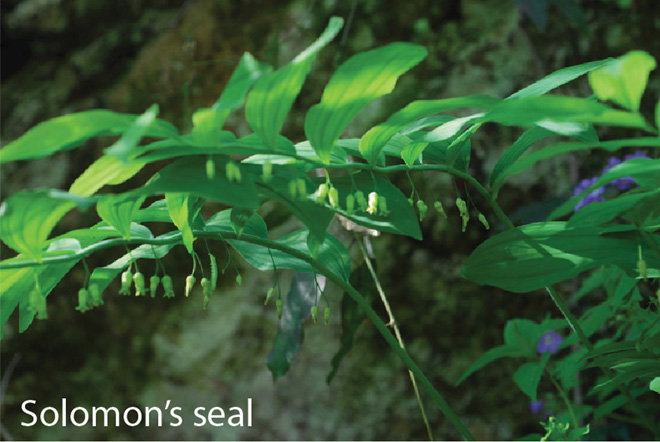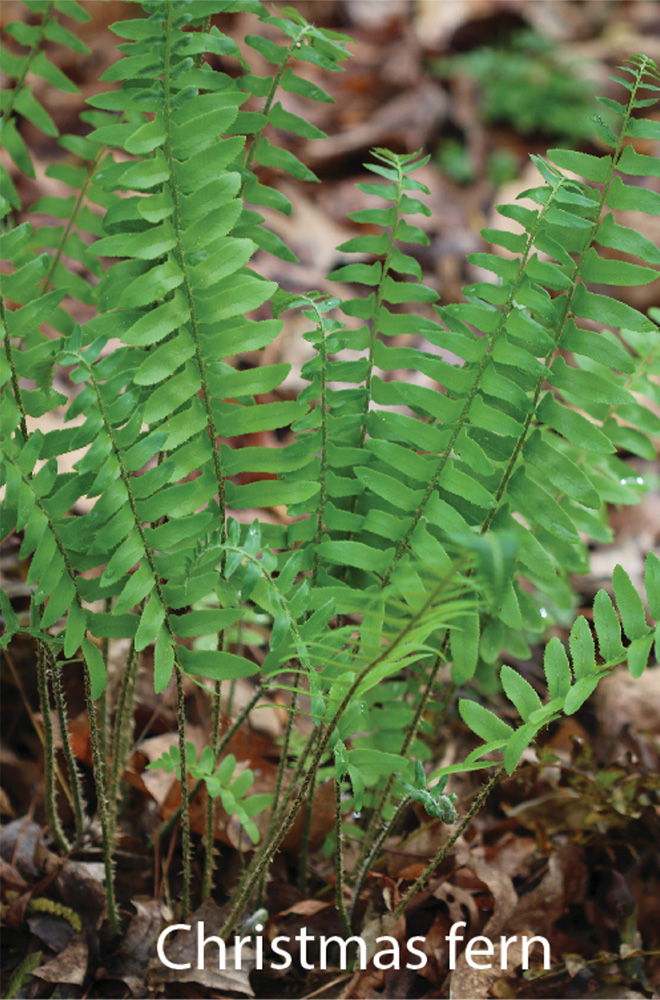 ---
Status and Revision History
Published on Aug 04, 2022

Faculty
Bodie V. Pennisi
Professor; Emphasis: Commercial & sustainable landscape; pollinators, Horticulture
Nathan Eason
County Extension Coordinator, Northeast District