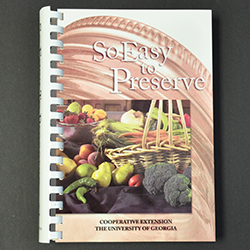 The 6th edition of this popular book is available for purchase only. The 388-page book covers topics on Preserving Food, Canning, Pickled Products, Sweet Spreads and Syrups, Freezing and Drying. There are 10 new products and two revised product recommendations in this edition. It's suitable for both new and veteran food preservers. For more information, visit the So Easy to Preserve website.
Order online with a credit card, or visit the for-sale page for information on how to order with a check. Delivery will be 7-14 business days from receipt of order. Please include a street address rather than a P.O. box. Sales of books and data are considered final. Materials returned due to damage in shipping will be replaced.
---
Free UGA publications on Canning, Jams and Jellies, Freezing, Drying, and Pickling are available at the National Center for Home Food Preservation.
---
Status and Revision History
Published on May 01, 2009
Published with Major Revisions on Aug 01, 2014