This publication is intended to be a quick guide for plant enthusiasts of North Georgia. Each plant listing is accompanied by a photograph and a brief plant description. The description contains the common name, scientific name, leaf description, flower description, habitat and plant uses.
Click the "Download PDF" link (above) to view this publication.
---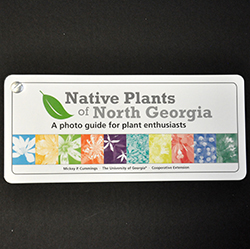 A professionally printed version of this publication may be purchased from the UGA Extension Publications marketplace store. Delivery will be 7-14 business days from receipt of order. Please include a street address rather than a P.O. box. Sales of books and data are considered final. Materials returned due to damage in shipping will be replaced. For more information, call the Office of Marketing and Communications at 706-542-2956.
---
Status and Revision History
Published with Full Review on May 16, 2011
Published with Major Revisions on Jul 01, 2012
Published with Full Review on Mar 28, 2017