Home
The Fannin County UGA Extension Office offers services in the following areas:
Have questions or want to know more?
Cotton Boll & Consumer Judging for 6th-12th graders Contest November 1, 2023 Practice every Monday at 6pm beginning September 18. Contact the 4-H office today to sign up!
Do you have a 1st-5th grade student in home school? Join us for a 4-H home school club meeting at the Extension office on October 25 at 10 AM.
From Our Blog- A Fruitful Discussion
Carpenter bees may cause damage to homes and wooden structures
As spring brings warmer temperatures and the dormant world begins to wake, we're seeing all sorts of plant an animal activity in our yards. If you're one of the many homeowners noticing small sawdust piles appearing on your wooden porch or around your home, take note as this is a sure sign that you have […]
Advective Freeze Warning for Fruit Growers
Over the weekend we are anticipating a classic "advective freeze" event, which does not bode will for southeastern fruit growers. An arctic air mass is moving across the country that is projected to affect the entire eastern portion of the country.  With it, daytime conditions may be cool to cold, cloudy to clear and windy.  At […]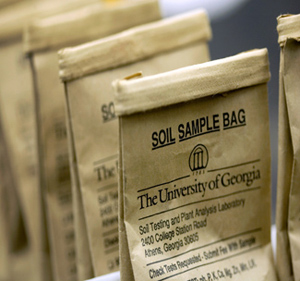 The gift that keeps on giving
Did your vegetable garden, fruit orchard, or pasture not perform as you would have hoped last year? While environmental extremes, such as excessive rain or dry spells, and pests and diseases can cause trouble, rarely is one factor to blame for an ailing garden. Regardless of what the causal agents may be, a very good […]
More Posts From the Blog keyboard_arrow_right
Shark Tank

Gently Soap founder Kristen Dunning takes her UGA-born soap to prime time.

National 4-H Week

Current Georgia 4-H'ers will join alumni, parents, faculty, staff, volunteers and supporters from across the country in their love for the organization during 2023 National 4-H Week.

Research with Reach

Each year, hundreds of international researchers — from master's degree students to academic faculty — apply to come to the University of Georgia to work in a wide range of academic fields.
Show More News
Oct 5
Journeyman Farmer Certificate Program Small Fruit and Vegetable Production Section
McDonough, GA
The second part is the Fruit & Vegetable Production that covers a multitude of subjects relating to crop production. Participants will have the chance to visit a working farm as part of the program. The presentations will be given by UGA Specialists with accompanying textbook and other materials. Topics include: Soil Health and Fertility Soil Amendments and Fertilizers Cover Crops Crop Rotations, Pest Management Crop Selection Crop Propagation Equipment Post-harvest Handling Food Safety Marketing
Free online learning
24/7 Tips to live a more active lifestyle, shop smarter, make healthier food choices, and cook delicious meals on a budget! Receive free kitchen and fitness items.