This publication is intended to be a quick guide for plant enthusiasts of North Georgia. Each plant listing is accompanied by a photograph and a brief plant description. The description contains the common name, scientific name, leaf description, flower description, habitat and plant uses.
Click the "Download PDF" link (above) to view this publication.
---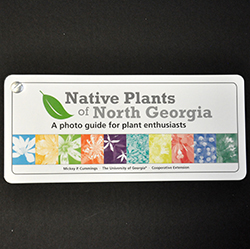 A professionally printed version of this publication may be purchased from the UGA Extension Publications marketplace store. Delivery will be 7-14 business days from receipt of order. Please use a street address for shipping rather than a P.O. Box. Sales of books and data are considered final. Materials returned due to damage in shipping will be replaced.
---
Status and Revision History
Published with Full Review on May 16, 2011
Published with Major Revisions on Jul 01, 2012
Published with Full Review on Mar 28, 2017
Published with Full Review on Jun 09, 2023